It's a good, solid mixed-bag, and speaks volumes about their love of music; specifically the passion and excitement of falling in love with a band when you're young. Unlike the political snark of some groups, or the activist message of others, INHEAVEN creates music out of a love of, well, music.
"All those bands you grew up loving, the bands that changed your life – owning that t-shirt and buying that record, looking at fanzines - you kind of owe it to them to carry it on. You want to do what all your favourite icons did," explains singer and guitarist James Taylor. "Nirvana were a massive influence for me growing up, and the Clash for their ideology. Sonic Youth, the Cure…"
Lyrically they just go with what comes naturally, rather than trying to be topical or on some sort of message. "I just write how I feel really," says Taylor. "And normally when I look back at it I think 'Oh, okay that actually does mean something'."
Chloe Little, on bass and vocals, laughs: "I've tried to be clever before and 'say something' with lyrics, but it just came our awful. We're better just going with how we feel."
With a sound echoing some of the '90s shoegaze and grunge they explored in their teens, INHEAVEN understand that semi-obsessive streak that fans experience. "Bands are so emotional," says Little. "I used to grab hold of everything I could and just cling onto it, pour over it."
Having released just four songs into the world, their own fans are already responding with excitement – most notably Julian Casablancas – and INHEAVEN have just finished a tour with The Big Moon and VANT.
"Our favourite bands and favourite people always had a really strong vision of what they wanted to create"
A DIY ethic is central to their work - from making zines to give away at shows to videos and t-shirts; this band is the real deal, and it's just downright charming: "It's something that people can take away from a show, something they can keep," says Little. "There's A LOT of cutting and sticking."
They apply a crossover and collage approach to everything they do: James designed the first single cover on Microsoft Word, they tell me, and scanned in the flower on top. "The flower's from this weird little video I made," says Little; the face on the second single cover is the guy from their 'Bitter Town' video; their social media is full of atmospheric imagery: bleached-out flowers, moody long hair, and crackling, distorted light.
Aesthetics and music are bound tightly up in one-another: "Quite early on, when James plays me bits I see quite quickly how I want it to look," says Little, who studied film at university. The first song they produced, Taylor worked on the music and Little did the video. This turned into debut single 'Regeneration'.
"Our favourite bands and favourite people always had a really strong vision of what they wanted to create," says Taylor. "As soon as you hand that over to a corporation or whatever, you end up being like every other band. If you do it yourself – you'll stand out."
The DIY approach is one that's not going to change since signing a record deal: "Now that we've got a label and stuff we'll carry on doing everything, they'll just help us to do it," says Taylor. "We've kind of been allowed to do what we want, which is amazing. I guess that's how we started so I think people respect that, and we're being allowed to carry on like that." When I ask about whether they're worried about retaining control in this way, Little laughs: "I don't think they could stop us even if they tried."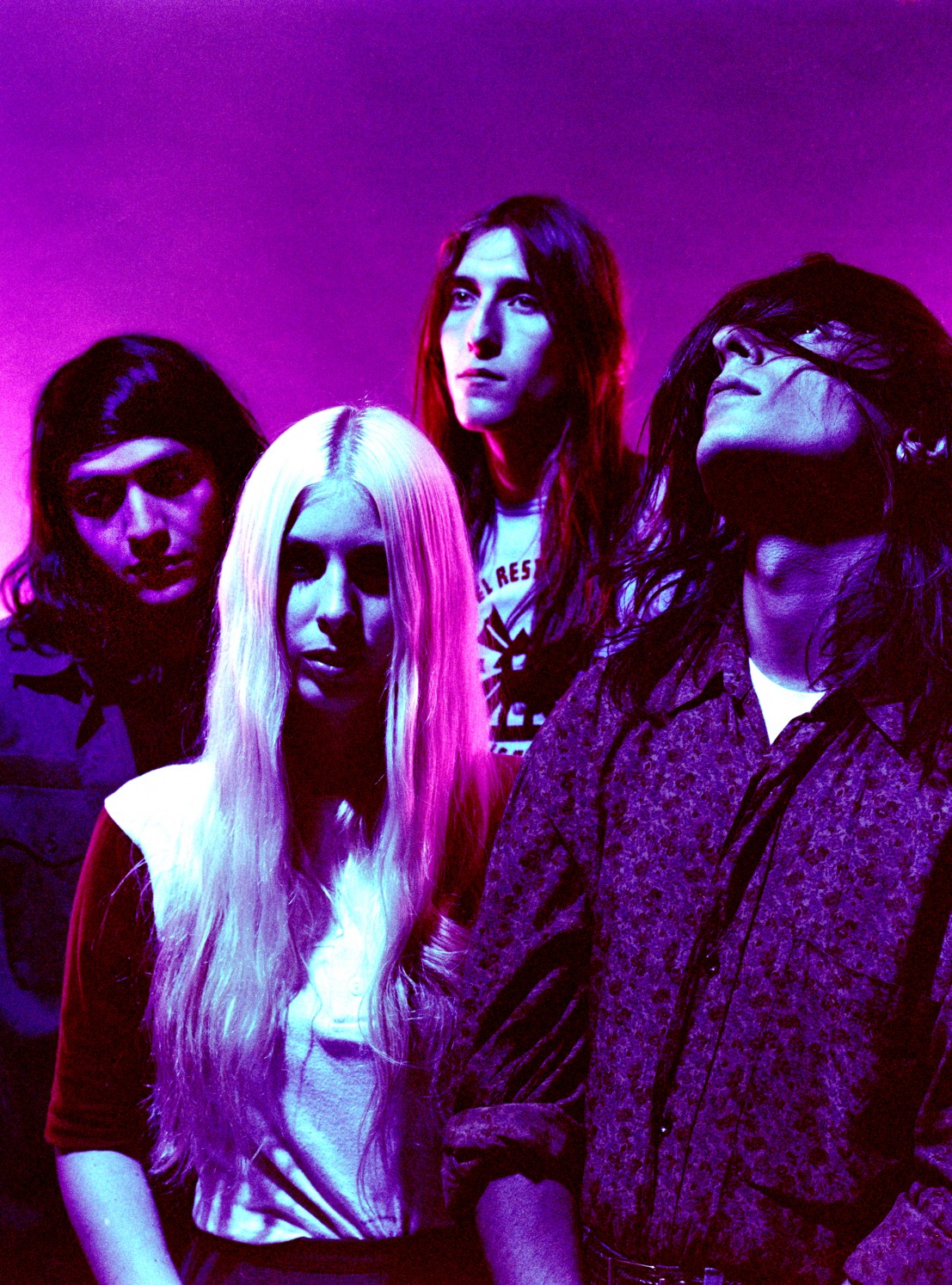 Their vision of the music they want to create is equally as strong. Even though there's a backdrop of wall-of-sound, swirling shoegaze, INHEAVEN have processed the genre through their own pop-friendly filter. "Slow" is 1:59 of dirgy, shimmering reverb, pulsing and bending, pinned together by Little and Taylor's sweet girl-boy harmonies. 'Regeneration' is reminiscent of the Jesus and Mary Chain but with an anthemic, almost Britpop chorus; haunting harmonies are drawn through a My Bloody Valentine-style wilderness on 'Tangerine'.
When I ask them to describe their music the band suggests each giving me one word (good music pub quiz fact from Little: "This is how Bowling for Soup came up with their name, by the way.") with which to portray the INHEAVEN sound. What we end up with is "dreamy noise punk pop" – which they all seem pretty happy with. Taylor says: "Most of our favourite bands actually loved pop music – like any music, you get good pop and you get shit pop."
So far, they're definitely producing some of the former, but with only four tracks in the public domain what can we expect from what's to come in 2016? "There's a lot of dreamy, shoe-gazy mellow songs, and some brutal, angry ones too, " says Taylor. "I really like the Smashing Pumpkins so there's a lot of that ying and yang in our record. I think it's important to have those quiet as well as heavier moments."
"I really like the Smashing Pumpkins so there's a lot of that ying and yang in our record."
Next year they also want to play live as much as possible. "I like bands with high outputs, so we want to put as much out as possible, and just tour the fuck out of it," says Taylor. "But we won't put out anything unless we think it's amazing. I want people to fall in love with it, just like we've fallen in love with it."
And INHEAVEN are still falling in love with bands. They talk eagerly about The Big Moon, Beach Baby and Ought, "And another band – Peluché – who sounded like Grace Jones meets Joanna Newsome," says drummer, Joe Lazarus. "They've got so many different things going on, all these harmonies that shouldn't really have worked but sort of did…when we saw them it was like being on acid or something."
"Yeah, they played four tracks and I just didn't know what was going on," says Little. "And then the drummer put down her sticks and picked up a clarinet, and I was like 'Oh, I am in'."
In a few weeks they're heading off to Wales record their debut LP – so why should people keep an eye out for INHEAVEN in 2016? "Because the songs are great," says guitarist Jake Lucas, simply. "There's just a lot of good music that's gonna be released." It's basic, but it pretty much says it all.
INHEAVEN play at the Five Day Forecast, Best Fit's festival of new music for 2016 at The Lexington on 14 January.