At its best, pop music is none of those things and it has been responsible for countless, timeless additions to the musical canon. It's a genre that's hard to define – Dusty Springfield and The Smiths wrote pop songs as much as Taylor Swift does – but when pop gets it right, something magical is created, moving away from any notion of the superficial, towards the holy grail of 'perfect pop'.
This is why the Swedish-born Natali Felicia is a breath of fresh air. She released two of the year's most astonishing songs, both of which recaptured pop music's timeless narrative. First up was "Used To Be" in March, a jaw-dropping mixture of melancholy, relatability and catchiness. It was followed up this summer with the epic grandeur of "Easy Ride" whose accompanying video somehow managed to be as stratospheric visually as it was musically.
Felicia's music creates a world that's entirely her own and is soundtracked by a vast, sweeping tunefulness that debunks the myth that pop is a dirty word. She describes her songs as pop, but with a caveat: "It's not happy pop, it's a dark world but there's still some hope there. You can see the light in the tunnel but it's quite dark and dreamy."
Yet her teenage years saw her pursuing another path entirely. At school, in the small Swedish town of Eskilstuna, Felicia developed a passion for sports, including cheerleading, football, ice-hockey and gymnastics before settling on figure skating, which she stuck with for six years. At the age of fourteen she started to explore the possibilities of music and found her true calling.
"I've always loved to sing and express myself in different creative ways. Music was never my main subject but we had music class in school once a week and my friends and teacher started telling me 'Natali, you should definitely explore this and sing more'. That really interested me. I got motivated to explore it further."
She moved to Stockholm, where her father, a well-known Swedish actor lives, to continue her studies at the age of sixteen. Her family gave her a guitar and she started playing cover versions, mainly Johnny Cash songs. She then began to write her own songs and played them live, which was a turning point. "I went to open mics and performed them and I got a really beautiful response, which really motivated me to continue. Slowly and steadily I started to find my own way."
She was introduced to songwriter and producer Andreas Grube by her friend Sebastien and they started writing together. One of the first fruits of their collaboration was "Used To Be". However Felicia decided to put the songs in mothballs until she felt ready, emotionally, to do them justice. "I was just about to turn seventeen and we decided to let it rest," she says. "The time and the right focus wasn't there. I wasn't mature enough to get it out there."
After finishing school she went travelling and returned to the songs in the spring of 2014. 'We met up again and continued working on the sound. It took a few years!' "Used To Be" was revisited and re-recorded, but not changed substantially. Crucially however, more people entered the mix to help Felicia crystallise her vision. Mikael Häggström (Ane Brun) added drums and Johaness Berglund (The Knife) joined on mixing duties. Whilst Felicia doesn't produce the music, she verbalises what she's looking for from her collaborators: "I don't know the producer part, but I can explain how I want the sound picture and what elements I want." The songwriting process is fluid, but who writes what isn't set in stone, she explains: "I sit with my guitar and come up with a few phrases and a melody and we work with that or it can come from Andreas or we can start something from scratch, it's always different."
Felicia is adamant about taking as long as she needs to finish the songs and getting the sound in her head onto record. "It's hard for me to write a whole song 'just like that'," she says, "I always write a few phrases here and there. It's like a quiet process, going around in my head and every now and then I have to sit down with my notebook and think about what it is that I really want to say. The process is going on in your head all the time." I ask her what would happen if she lost one of her notebooks? "That would be really sad, very sad! Because as soon as I think of something, I have to write it down."
"Paper and pen feels more real, analogue. It feels good to have that physical process of actually writing."
This recalls a recent interview Ryan Adams conducted with Taylor Swift, where Swift said she was always was making notes in her phone, whilst Adams said that he unconsciously wrote journals. Like Adams, is Felicia a pen and paper person: "Paper and pen feels more real, analogue. It feels good to have that physical process of actually writing."
One thing that strikes me is how important visualisation is to Felicia. She's just returned from a songwriting session in Berlin and it transpires that her visualisation doesn't just extend to music. 'Berlin was really exciting but I did feel it's weird, in that you can feel the sadness in the buildings and the atmosphere.'
She tells me this is linked to the fact her father is an actor. "I've always had a view into that world and when I first started to get into music as soon as I put my headphones on I visualised it in different scenes, forms and sounds," she explains. "That might sound very pretentious! But I think lots of people do that. 'Filmic' was a word Andreas, Sebastian and I sat down and agreed on, something we wanted to focus on and keep in mind throughout the creative process and create a world that invites people to create their own visions. A mystical, dreamy and slightly melancholic world."
What makes Felicia's songs so profound is their timelessness. They're also genre agnostic: Girls Aloud fans and indie fans could love her songs equally. It's not shallow pop music, such is the richness of the lyrical and musical narrative, but what does she think about the idea that pop music is a dirty word? "Maybe it's because pop is something that's so general, or not unique enough. I think there's lots of things that are pop and there's very different views and versions of pop, there can be different kinds of pop and it can be something that is quite easy for someone to get to."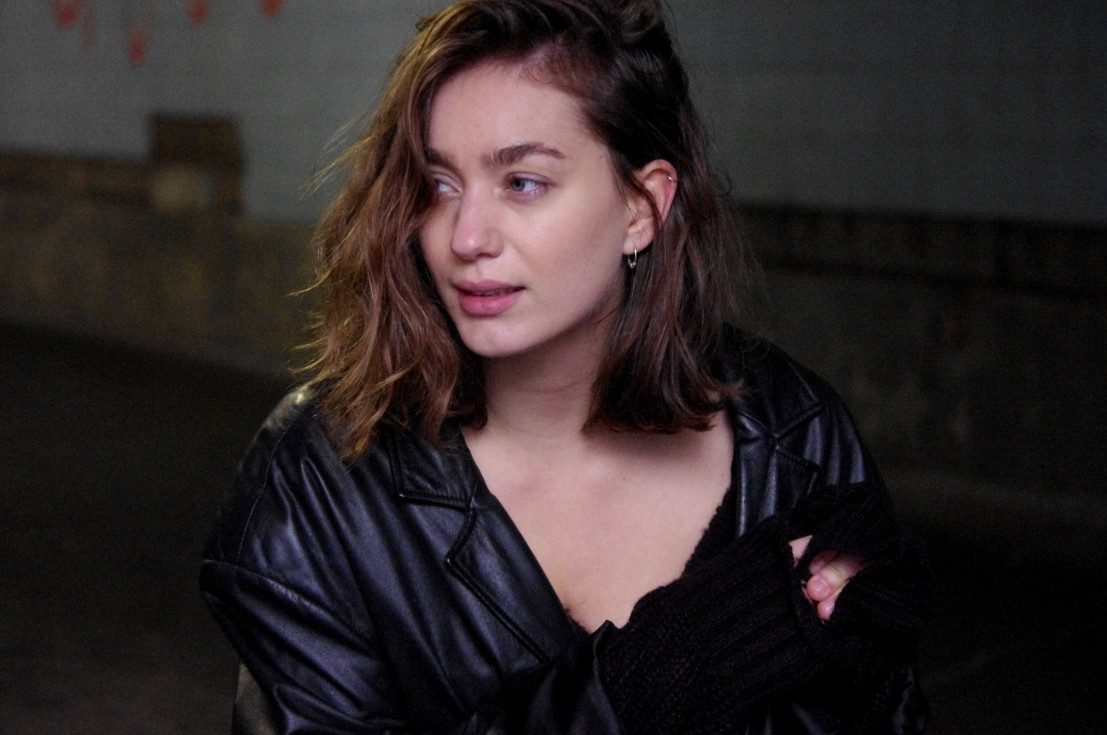 She describes hearing the finished version of "Easy Ride" as an amazing experience. "I really love the production, it's really special when you've heard the small demo of it compared to the finished production, and it's very special. I'm very happy with it." She tells me that "Easy Ride" is about "meeting and facing your own feelings, like the journey of life itself, where you always get to different points where you get to choose which way to take and different forces that constantly pull you in different directions. For me, I really believe that when you dare to face your own fears that's when you really develop as a person and I always need that to challenge myself."
Videos are very important to her, providing a tangible link to her cinematic view of music and she loved making the film for "Easy Ride". "It was really fun when I met the director, Jonas (Hong Soo Eriksson), we really clicked, he listened to my ideas and he had really creative ideas as well… with the bees!" She laughs at the memory of being surrounded by a swarm of them whilst making the video. Eriksson says, "Natali is so brave artistically, but also in simple terms of getting on board all the dangerous stuff we were doing and from a directors standpoint it was so rewarding to have someone saying yes to these pretty idiotic ideas."
The songs and the visuals have a natural end result for Felicia, which is on stage. In 2016 one of her key ambitions is to play live more. "I really love the live part, that's where the magic takes place, so I really want to develop that more - in terms of the visuals as well - as I view the music very cinematically," she says. "We'll see how the Spring turns out, but I'm hoping that I can get to come out and play live a lot, to get to meet people, to travel and play with the band internationally. When I travel I get really inspired, so the combination of those two things would be a dream."
She describes the response they've received when they've played live so far as beautiful and again returns to her language of visualisation: "People have been really surprised, in a good way. It's kind of intense with a big sound picture with lots of things happening." As well as playing with a full band she also plays with just an electric guitar and voice, "which is a really nice setting, it's quite naked and really very stripped versions but still quite a big sound picture with the guitar and lots of delay."
This summer she recorded a version of "Easy Ride" for Best Fit which featured just her voice and an acoustic guitar and the end result was stunning, the power and emotion of her singing showed how compelling and vast Felicia's voice and songs are, regardless of the instruments involved.
She tells me she'd love to a support an established artist. Who would be her first choice? "Oh, that's a hard question! Moby would be a dream, the music is so good, I've listened to him lots in the last couple of days and there's so much feeling in those songs, that would be a dream, he's an interesting character...another dream act to go on tour with would be Fever Ray! And Florence and the Machine! She's a goddess! I saw her live this summer at Way Out West and she blew my mind... such a magical live performance. Haha, that's quite a mix now but all three are very interesting and inspiring characters and create magical music!"
"My music...invites you to this cinematic world, where you can create your own visions too."
Having recently signed to Polydor in Sweden, Felicia re-emphasises that things will move at her pace. Just as she put "Used To Be" on ice for three years, her perfectionist streak means she won't be rushed and she seems to have found the perfect home with the label. "They're really supportive; I'm very comfortable with my team at Polydor," she says. "It's important to me that people really listen to me and my visions, I don't like to hurry things, things have to take time. I think it's about timing, it's all quite new being signed and I'm still trying to find my way."
An EP featuring "Used To Be" and "Easy Ride" and three other tracks is up next. She's also spread her songwriting wings, working with new collaborators recently in London and Berlin: "It's been really interesting. I haven't done that before, working with new people, I was quite nervous in the beginning but it's been really interesting and really productive and there's definitely material there I really want to continue to working with."
As our conversation comes to a close I ask her how she'd describe her music to a new listener? "I would tell them 'it's something for you to sit and listen to. It invites you to this cinematic world, where you really can create your own visions too and either go out for a run, just sit home with a cup of tea or a glass of wine, or when you're in the car and driving a long way.'"
Natali Felicia creates music for any occasion. Pop music has a brilliant new addition to its ranks.
Natali Felicia makes her London debut at the Five Day Forecast, Best Fit's festival of new music for 2016 at The Lexington on 13 January.