"I was never really nervous to meet anybody," he tells me. "Maybe DOOM a little bit, but that was really it. I didn't really know how he would be in person", he tells me.
Nehru - born Markel Scott - came to MF DOOM's attention after appearing on the same bill, along with Ghostface Killa, at London's 100 Club nearly three years ago. Prior to their meeting, Nehru had already showcased an interest in the hip-hop veteran after using clips of DOOM's voice on his first mixtape Nehruvia. DOOM's people reached out to Nehru's which lead to the collaborative NehruvianDoom album. The result of the young protégé and mindful mentor's love for hip hop saw DOOM's classic hero/villain beats providing a unique platform for Nehru.
At just 18, he was confident in diving headfirst into the depths of the hip hop world. "That's one thing that Doom kinda let me know," he tells me, "just do what you do, just keep doing what you doing." Whilst talking about MF DOOM's comic book inspired beats, I ask Nehru what superpower he would like to have most. "Maybe invincibility or flying. It's not that I would necessarily never die, I'd probably still die of old age but you'd just be invincible to everything else, like bullets and knives and stuff. No one could really hurt you."
Nehru is mature for his age and his intelligence, focus and fierce flows also caught the attention of another rap legend, Nas, who deemed Nehru as the "future of music" before signing him to his own Mass Appeal Records in 2014. "I wasn't really restricted but there were certain vibes they wanted me to create, and I wanted to experiment and try and make different stuff to be more of a musician rather than just a one lane kinda guy,' he says. "I had my own stuff that I wanted to do, and I don't think they saw the same vision for me", he explains.
Nehru's brief stint with Mass Appeal hasn't diminished hi respect for Nas and he namecheck him for a future collaboration: "A lot of them are just artists about now, like Wiz Khalifa, A$AP Rocky - people like that", says Nehru, "Anthony Kiedis, and Nas of course."
"There's a lot I want for myself, so I'm anxious to get it."
He's turned the attention heaped on him at such a young age into confidence: "I guess there's a lot I want for myself, so I'm anxious to get it. Not like a nervous anxiety but it's more I feel like I see everything happening or coming, and I'm just eager for it. It's more that kinda anxious", he tells me. He seems headstrong, and when asked what tense he prefers to live in, he answers, "all three. I try to not dwell on the past, I try to live in the present but I also think about the future."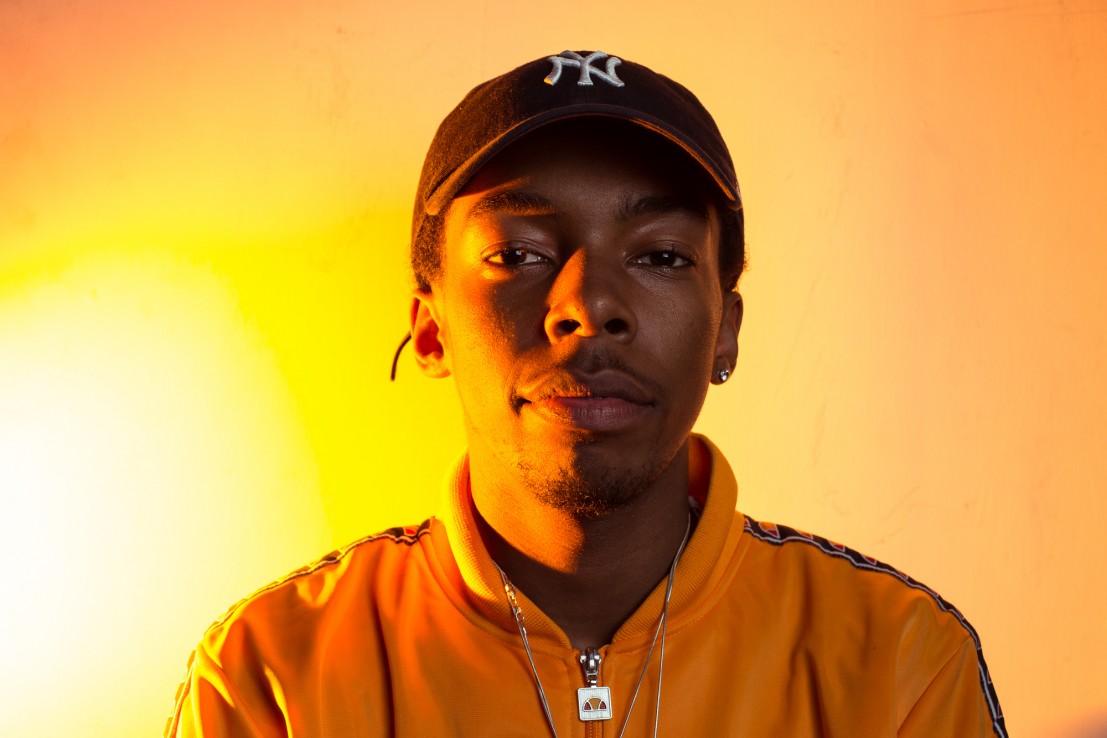 Now aged 20, Nehru doesn't fall short with ambition. He respects time and his craft, making sure that every project is never a chore. "I wanna win awards like Grammy's and stuff. But I don't think that's the biggest goal" he says. "I don't really look at making music as a challenge as I enjoy doing it. I've never really looked at a moment so far and looked at it like 'ah man this is hard to do'. If anything was challenging I would say my first mixtape, as I was still trying to work stuff out and how to record myself and stuff. Other than that I feel like my work has been coming along just the way I like it you know? I don't look at the industry as too much of a hardship. Maybe getting onto like planes and stuff, I don't really like planes. Everything music wise is actually really fun."
As a child he Nehru was raised around a great variety of music. He remembers spending time at his grandparents house, sifting through hundreds of jazz records that have undoubtedly helped to develop his taste to this present day. Surprisingly, he namechecks Black Sabbath among he favourite British artists, along with "a little bit of The Sex Pistols; more old stuff." He loved Red Hot Chili Peppers, "because they were influenced by people who also influenced a lot of hip-hop dudes like Snoop Dogg and George Clinton. Certain things just connect I guess."
Reading books and analysing movies are a couple of hobbies that give him a break from making music. "I'm a big movie guy," he tells me. "I like sitting in the theatre. I saw The Conjuring 2, it wasn't scary at all. I think I actually fell asleep during that movie. No scary movies scare me anymore for some reason", he explains.
When it comes to literature, Nehru turns to non-fiction and books that help to maintain a strong mentality and wellbeing. "I wanna start reading more novels as I haven't read them a lot, but I like stories. I've only been reading stuff that is gonna make you a stronger minded person. I haven't read a novel in so long. A lot of the things I read I don't really remember the titles. I just read it, or go on the internet and get an e-book. So a lot of the stuff is just spaced out, but the topics are on stuff like meditation and breathing." He shares a common belief that reading a book before the movie can be both good and bad - and vice-versa if watching the movie before the book, "It's like Lord Of The Flies. That happened when I read the book and then watched the movie. I like the movie still, but I feel like the book is way different to the movie."
"I'm inspired by guys like Dr. Dre, who literally does everything."
This year saw the rap prodigy release another mixtape, with Magic 19 presenting Nehru as more developed but experimental artist, pushing himself to make more complex beats and highly infectious hooks. "I started off doing it because it was natural. But it's definitely something I feel I can expand on and find something great with, so I wanted to try and make it the best sound that I was looking for. It's pretty much a bit of both, but mostly it happened naturally, I was just having fun and making music", he explains.
"I'm inspired by guys like Dr. Dre, who literally does everything," he says. "There's always gonna be someone I know that can do it better, but it's also really valuable to be able to know what i'm talking about myself so that's why I'd love to get myself in that field. I feel like I'll make a lot better music."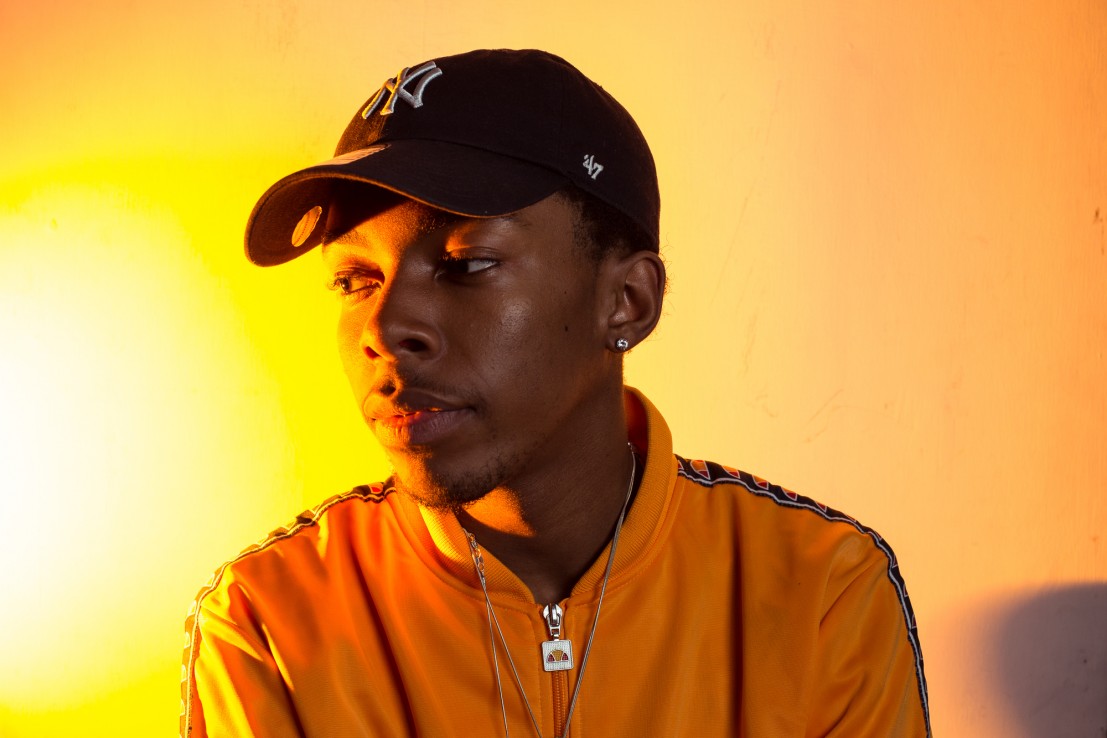 One of the tracks from Magic 19 "It's Whateva" features the same beat that appears on Kendrick Lamar's Untitled Unmastered album - but who beat who when it came round to releasing it? "The producer who made it actually hit me up when Kendrick dropped his and he was like 'Bro, Kendrick sampled the same shit that I sampled, I'm so mad.' I didn't even know Kendrick sampled that when I made that track, he released his, and mine was just sitting there. I wasn't gonna do nothing with it, I just put it out."
Magic 19 captures Nehru in a whirlwind of excitement with his progress before finding a more reflective stance, and eventually resolving itself with authenticity. "I feel like on every album I try to keep it to where I'm at now in life with what i'm doing," he says. "With that being said i'm sure there's gonna be a time where the music sounds like i'm bragging or boasting, but it's just what i'm around. I feel like with that it's just about where i'm at in life; these are the stages and this is how I'ma show'em y'know? I try and show where I'm at in life with every project that I'm doing."
The mixtape also highlights his ability to push on with or without a label, and in a time where labels are becoming less appealing to artists, Nehru isn't crossing off the prospect of staying independent forever. "I definitely wouldn't mind signing if everything is right. Some people will be signed right the first time, and certain ones [labels] pay attention more."
I ask him what his biggest fear is. "I don't like heights, but planes are getting me used to them, but I'm still not big on heights. I think i'm pretty cool with things", he says. He doesn't seem fazed by mundane things - even spiders can't scare him. "Yeah I don't really give a fuck about spiders. Spiders aren't that serious." But what if it was a tarantula? "I wouldn't run into another room, I'd probably just stomp on it. I don't like bees either, but i'm not afraid of them. I hate bees. I get stung a lot."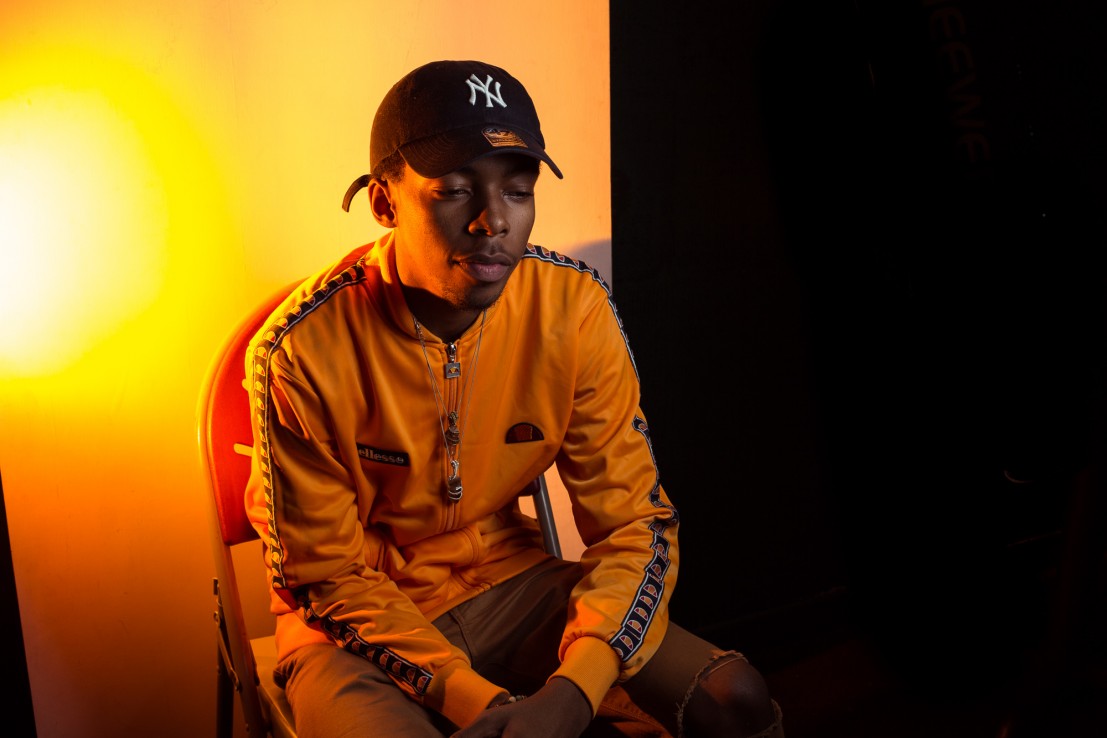 Making music is something he happily does everyday from the comfort of his own home. While he's unfamiliar with most instruments, his talent lies in the spoken word. "I guess it's just easier and it's cheaper to get a microphone than an actual instrument," he says. "Getting a mic was way more open than getting an instrument like a guitar, but as a kid I definitely wanted to learn the guitar. I dabble with piano a bit. I don't like to say that I play it, because I feel like when you say it people expect you to be like Beethoven or some shit. But, i'm pretty good at piano."
"I'm just there to have a good time to be honest."
His youth is something he thrives off, as he merely shakes off the thought of getting nervous before shows, and even enjoys touring. "It goes by really quick, so I don't really find it hard at all," he says. I ask what songs would explain him best spiritually, and with laughter he replies "I gotta see what year 'Crank That' by Soulja Boy dropped. Whatever year that song dropped. 2007 Soulja Boy. Or 24-year-old Michael Jackson in Thriller."
Is there any aspect of his career that he finds unnerving? "Not really. I'm just there to have a good time to be honest."
For now, he's just enjoying his youth, and the normality in his everyday life. "I guess i'd watch a movie, make a beat or something. It's not really special, I'm just a normal guy." He tells me he's a fan of European snacks: Quavers and Brain Lickers in particular. As our conversation comes to a close, he still sits with his hands clasped, still playing with his MF DOOM mask ring.
Magic 19 is out now on iTunes and Spotify.