Every time I visit Oslo, I'm always inundated with a fascinating insight into what life would be like if culture was at the very centre of the lifestyle. In Oslo, it's easy to be captured by creativity. Last time I was here, four festivals collided together in the same week – the city a wash of music from all corners of the earth. This time around, I'm here especially to visit the Oslo Jazz Expo – a festival I got only a brief insight into last year – who is offering an international delegate program, for the first time in their history.
The expo is one of Norway's oldest jazz festivals that since its early days has striven by a sense of total independence. It's 30 years old this year, and to celebrate, the Ministry of Culture has invited a program of foreign journalists, programmers and thinkers to enjoy a weekend of what Oslo Jazz has to offer. The idea is that Oslo Jazz is fertile ground for conversation and exposure across borders.
It's strange to think it's taken this long for Oslo Jazz to get this state recognition though. Among its peers, the festival has always been a well-respected, traditionally minded event with a good selection of bookings that encompass both the philosophies of both the younger players, and old, well-trodden legends. But unlike most festivals in Norway, it's only now receiving recognition from the Norwegian state through this international funding.
Many festivals in Norway are helped by donations from government - helping the festivals promote and export Norwegian bands abroad. For this country, culture is increasingly a major export huge, and Norway's push to mark itself as a cultural utopia is becoming increasingly prevalent. In remaining outside of this bubble, Oslo Jazz has has kept a genuine feel that many of the bigger and better supported projects fail to have.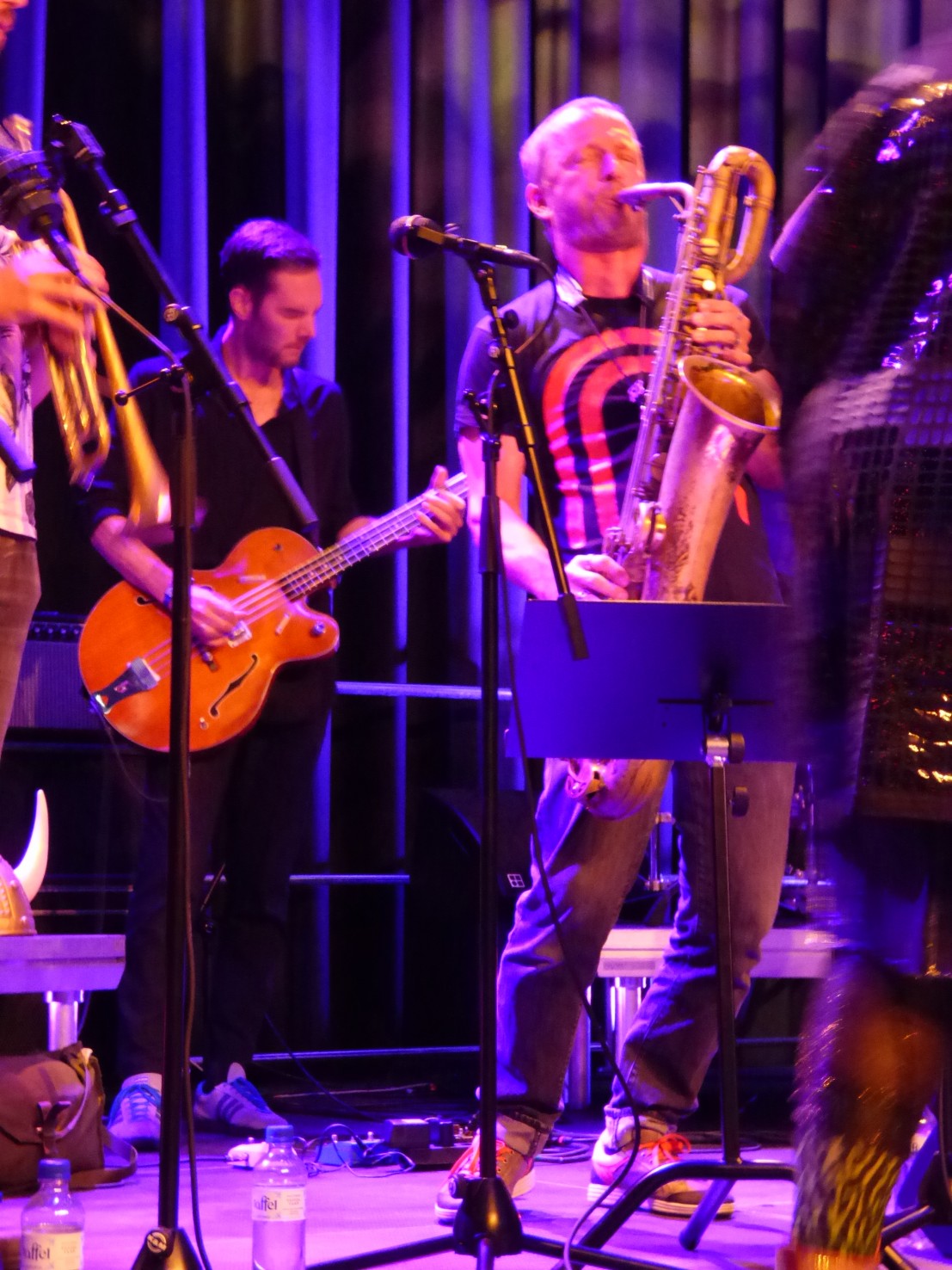 Often the problem of state sponsored intervention into the arts is they feel too bureaucratic – offering accessible music that charms instead of challenges. It's refreshing then, that much of what's on at Oslo Jazz buffers this completely, challenging preconceptions and throwing you completely out of your comfort zone. This is something that's proved to us again and again across the weekend, by the likes of the Fire! Orchestra (pictured above), Pixel, and Morten Qvenild.
Oslo Jazz splits itself two ways - between newer talent and old legends. For the more traditional heads, there's tenor-sax player Charles Lloyd, former friend to the late B.B King and Cannonball Adderley, and the famous American songwriter, Jimmy Webb – concerts that have their place as historical monuments, marking much of the history of this festival. Charles Lloyd's show marks 50 years since he appeared at the Universitets Aula, in October 1966. Jimmy Webb's show is a retrospective piece, celebrating half a century of work.
For those more inspired by new jazz philosophies, there's more low-key, less high-brow shows in jazz clubs around the city. Shows at Herr Nelson are an inspiring vision of what the future of some of Norway's jazz players may look like. There are also free concerts throughout the day, on the green outside Oslo's Parliamentary buildings.
The fascinating thing is the level of infrastructure, Oslo operates on. There are the public access events for everyone to enjoy. As well as events marketed at the upper echelons of Oslo's higher classes. And introductory concerts for keen fans, but not necessarily serious music lovers.
Elsewhere in Oslo, our trip exposes us a little to Mela - a festival I began looking at last year. Started by community groups from Oslo's Pakistani population, Mela is a world community arts festival down in the bay. It's another of the cultural projects that receives state support – opening with a introductory concert at City Hall, with speeches from the Mayor. There is also a concert from the Norwegian Philharmonic Orchestra, another beneficiary of Norwegian arts funding, for free in the street on our second night.
Our journey begins with an early post-work show from Charles Lloyd's New Quartet (pictured above), at Universitets Aula. The show clocks in at 480kr (around £43) a ticket, so isn't a cheap evening out – but it cushions wider audiences than I expect. I feel as if being here, I've entered high society Oslo. People turn up in suits and evening dresses, smartly dressed and freshly polished - but the age range is vast, with many older faces sat next to groups of the younger well-to-do.
At 79 – Lloyd looks so alive. Walking on stage he grins and gleams back at the audience, winking through knowing sunglasses – stepping to the side to let his band begin. Jason Moran kicks things off, starting soft, before the rest of the musicians settle into his groove. Many of Lloyd's band members are half his age, but it doesn't stop them gelling perfectly. Jumping between tenor and flute, Lloyd is quick to blast through a life worth of material. Within an hour and a half, it's all over, leaving us to make our own respective ways to other stuff on the program.
I take a trip up town, to the Norges Musikkhøgskole (Norweigan College Of Music) to investigate Morten Qvenild. This show marks the end of his doctorate, and for many, it seems an emotional last show. The show is staggeringly different from Lloyd's. Morten is alone on stage, surrounded by light beams and computers, all centered round a baby grand piano. One big hand taps away at the piano, while another fiddles with electronics. The concert is eccentric, wacky, and like nothing I could have expected. In terms of sound, the closest reference I could make would be to say much of it sounded like the universe in slow deconstruction. But there is something far more interesting to be seen in Morten Qvenild.
We're given a book at the start of our trip – A Poor Man's Connoisseur Guide to Happy Living in One of The Most Expensive Cities in the World – that resonates much of my time and experiences in Oslo. The first essay draws parallels between Oslo and much of JG Ballard's work. This is Ballard's city, they say, his 'eventless society' paraded through the safe and comfortable haven that is Oslo. Everything is simple, quiet, efficiently minded. There is no drama here, things don't happen. Nothing changes, everything rolling on in it's comfortable fashion. But breaking beneath the cracks, and watching a performance like Morten's, that view of Oslo can start to change. There is more drama here than meets the eye.
What I've just seen, just in one night, undermines the thought that the same recurrent repressive state order was running through its culture and its art. Within Morten, we have an artist whose research scholarship has been funded by the municipality. But that has allowed him to create something unique and beautiful. But it's not just Morten – many creative's here can access all kinds of grants – if you're an artist, there are studios and research terms on offer. While if you're a musician, there is all kind of investment poured into helping you access the equipment and materials you need in order to work. Its oil funded, yes, but as Ballard would say, there is always a facade covering up more sinister forces in Western cities.
Music starts on Thursday at the Sentralen, 'The House of Culture', a venue that can only be described as being somewhere between an old bank building and an embassy. I'm here to watch the wonderfully exciting Fire Orchestra – an orchestra whose lineage can be tracked through an illustrious selection of free jazz luminaries from the 1960s. My favourite thing though – is witnessing seeing the awkward trepidation of the Norwegian audience slide away, as they start to live and feel the shifts between ambient and avant-garde.
In a lot of ways it's a little similar of the stuff going on in the UK - these big brass bands repatriating jazz history and looking to the avant-garde for influences. It's the same sort thing we're seeing with Tomorrow's Warriors, and Sun Ra's legacy, and opens the door for an incredibly exciting era of totally out there work.
The follow up comes from Pixel (pictured above). Another Norwegian band we were told was worth watching. Their style is all the more smooth, sleepy, silky. Pixel have much less drive in their music. For these guys, it's about holding down a pace, a groove, syncopating between the rhythms of the two-on-stage drummers. They represent almost everything I want to see in a good jazz show
Friday give us time to check out more of Mela. At the opening concert, the speeches main focus is on creating harmony between different migrant cultures in Oslo. But there are bigger questions to be asked, about the price of European hostility. You have to question whether it's tolerance that has made this a city hall project, but yet – it's nice to see at the opening concert, many of the community groups and local institutions fighting for migrant rights, together in one room.
We have to understand that in Oslo, there is not the same stage logic as there is in Britain. There is old socialist blood here, and the state plays a big role in looking after people and their lives. It means that often things are incredibly bureaucratic, which leads anyone foreign to be incredibly questioning of it. But it does work, and out of most of the things I've had a chance to see in Oslo, many are of an impeccably high standard. Much of its culture is awe-inspiring, and it's funding model is something many in the UK are jealous of.
Oslo is a fertile market. But it's festivals like Oslo Jazz that are fighting for the independence and resilience of musicians here. They stand alone, and do things a little differently. Every time I visit Oslo, I am always warmed by the different experiences it offers. It gives people access to enjoy culture where they may not have been able to before. Before this weekend, I had little been able to afford seeing more than a handful of high-end jazz shows in London. I hadn't ever seen a philharmonic orchestra. But Oslo opens the door to these experiences, and welcomes you inward with open arms. We can be cynical of its creativity – or we can look at artists like Morten Qvenild, and look at ways of fighting battles to make something that is challenging, out there, and fights the bureaucratic confines of state influence.