The shadows of Black gods and goddesses of the silver screen flicker across the face of Tara Lily. She sits, alone, among the worn, plush rows of an Art Deco cinema, tapping the ash from her cigarette with a red-painted finger as her face transitions through sorrow, resonance and disappointment. She watches a volatile relationship set ablaze, burning down to its final conclusion. Her diamond earrings catch the light, but so does her silver chain; her blue satin dress defies decades, and yet the puffer jacket she drapes over her shoulders remind us that this is London - there is always an edge, even if it's polished.
"The Things You Do to Me", the first release from Lily's debut EP Lost in London is a dark blend of R&B and jazz – shaken, not stirred. It's a tipple that is undeniably classic: time-defying yet also time-defining in the way the 22-year-old lends a tang to tradition. It's an essence which is captured by the all-female crew who brought the visuals to life, leaving you with a memory that burns into your mind's eye like a flashbulb, an image lingering like it was developed in a darkroom. Yes, though Lily has classically trained in jazz at Trinity Laban Conservatoire, she is also a graduate of the streets of Peckham that raised her; as much a disciple of Boy Better Know's Jammer, her mentor, as she is a worshipper of Nina Simone.
"You're cold to me / You're dead to me", she shrugs, a smiling assassin. Fool Tara Lily once, shame on you - but god knows you will never fool her twice. She has worked too hard, overcome too much, and really has better things to do. Lost in London she may be, but the woman who sits in front of me carries the air of someone who has an unwavering, hard-won sense of self.
Lily joins me in the kind of Peckham café that makes its sandwiches from freshly baked focaccia, has artfully-made pastries you've never heard of – and if you have, you can't pronounce or probably afford. Its plastic chairs are a red herring of non-threatening familiarity, fashionable in the way they are mismatched; close enough and yet notably detached from Peckham Rye. Even though smells of meat and fish from the Afro-Caribbean markets still linger on the air, the garishly flashing signs of mobile phone repair shops still blink on the streets and knick-knacks spill out of discount stores, Peckham has changed – and before anything, before the music, that's the first thing Tara Lily tells me.
"It's a hard thing to watch happen to your own area when you're not someone who has benefited," she says. Lily has lived in Peckham her entire life, having walked only ten minutes from the council flat she was born and raised in. Her Scottish mother and Bangladeshi father ran away together from the impossibility of their opposing worlds and built themselves a life where diversity was the very fabric of its community. "Financially, I'm one of the people that has still not benefited. It's been a strange, sad thing to see. I mean, I've seen good things come from it – obviously, there is more of an arts community culture here now, but I think that's going to go," she says matter-of-factly, "because a lot of those people probably won't be able to afford to stay for much longer."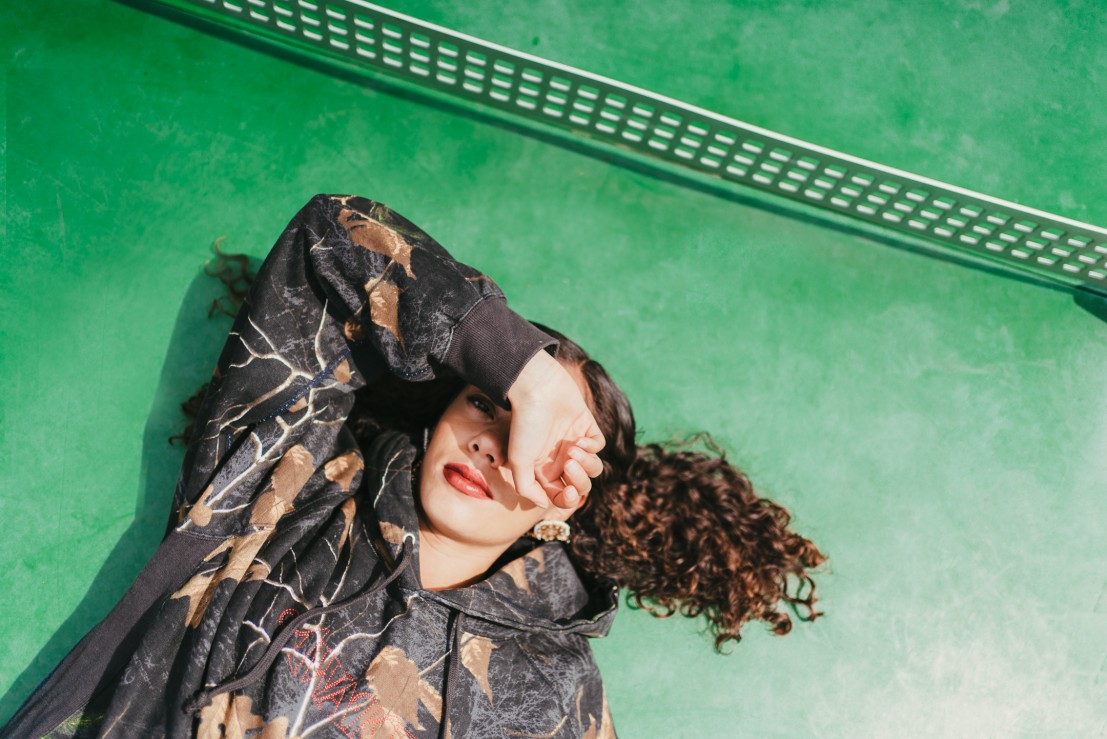 The first thing you should know about Lily is she isn't in the business of serving truths with a spoonful of sugar: realities are a bitter pill to swallow, and facts are cold. It's easy to forget she is 22 years old when her air of world-weary confidence, of knowing too much too soon, belies her age. Her agemates in her position, as an artist signed to a label on the cusp of making their first, definitive statement, are often bewildered by their newfound success that feels like a result of chance rather than calculation. But not Tara Lily. When I ask her if she feels a pang of imposter syndrome, she says simply: "No. I feel like I deserve all of it."
And it's with good reason: "I think some people feel like they just got lucky, but I've not really got lucky at all. I've done the work to get to this position."
Listening to her debut EP, Lost in London, everything from electronic-infused "The Ones I Lost" to the skittering hip-hop indebted "All On Me", down to the closing-time cabaret piano of Miles Davis' reimagined "Blue in Green (Honeymoon)", is not only a product of the sounds she loves, but a product of the sounds she has voraciously studied. "That's what real artists do," she says. "They immerse themselves in that world. People nowadays just add things for the sake of it, because they think, 'Oh, that's a cool sound' – which is nice, but if you're working on developing a real sound of something, you're going to sit and you're going to go through that whole era. People often use things that they don't understand."
What you're listening to is the final incarnation of a sound Lily has been shaping for many years. It's covered with the fingerprints of circumstance and birth right, from growing up in Peckham born to two musicians from contrasting cultures, to immersing herself in the grime scene as a teenager and then stepping out, alone, to cut her teeth in the jazz world. It's a sound that is both modern and timeless. "It has that kind of feel to it, doesn't it?" she smiles.
After the meteoric success of her Jammer-produced debut single "Who Saw Who", which blended traditional jazz standard progressions, harmonies and horns with sharp grime beats and double-time rhythms, Lily vanished for three years. She disappeared first of all to become a woman, to be acquainted with love and loss, and second of all, because she lost her voice – in more ways than one. More than an EP, these five tracks she has plucked from her repertoire are the telling of her own coming-of-age story.
She needed to step back and assess the artist she wanted to become and the sound she was committed to create. Though jazz is foundational to the music she makes, as well as being the discipline she studied at the prestigious Trinity Laban Conservatoire of South East London, Lily has never felt accepted by the scene. She lays it out plainly: "One: I'm a woman; two: I'm a singer and three: I work with a lot of electronic instrumentation. I don't feel I've been accepted, in that sense, even though I've done my training and I'm at a certain level. I feel like the jazz scene is very niche, and what I've always done has been very different to that – I've been inspired by much more…" The music in the café blares over her words, the space is buzzing with a throng of people, and everything snags on her train of thought. "Sorry, I'm finding this very distracting…" says Lily. "I've got ADHD so it's hard for me to concentrate."
Her late diagnosis, which plagues women in particular compared to men whose symptoms are more apparent at an earlier age, led to her expulsion from the talent-pumping BRIT School when she was 15. "I didn't fit in at all, but I had lots of friends there," she says. Musically, it sat almost diametrically opposite to what really interested Lily, with its alumni excelling mainly in the worlds of pop and rock music (read: Adele, Jessie J, Rex Orange County, Black Midi). When she tells me she was expelled, she says it flatly: "I was on my, like, final warning or something and they had all these schemes to try and put me back on track, but they just fucked it all up. It was very traumatic for me, being expelled. I failed all my GCSEs, it was terrible."
She was only diagnosed with ADHD after the damage had been done. "If I had the diagnosis when I was there, then things might have been easier for me," she says. "But I was always quite bad at school, anyway, because I'm quite an angry person. I'm very up and down, very expressive about what I think and feel." I tell her I had always assumed being expressive was liberating, in some way. "It is, but not always," Lily says. "Sometimes you need to get on with stuff, and for me, if I don't want to do something, I'm not going to do it."
Her ADHD has meant that her ability to give a fuck about things that don't interest her has been massively curtailed. "When it comes to things I'm not interested in, I just completely shut down. I won't be able to focus at all. When I was at school, I often wouldn't come to classes I didn't like, because I'd have to be sat there for an hour – sometimes longer – and it would be mentally and physically painful for me," she says. "But when it comes to things that I'm interested in, I'm twice as fast."
Listening to Lily talk about the mechanisms of music, the capabilities of the voice, is living proof of that fact. The rigorous demands of being classically trained in jazz suited her almost obsessive approach to understanding it. "It's about stripping everything down," she says. "Most people who sing copy from someone else, they try to sing like someone else. When you're classically trained, you're constantly trying to strip away all of that stuff, going to your bare voice as it is and building it up from nothing, without any extensions like vibratos, riffs, bending notes or whispery effects. You can start adding or taking things when you're doing healthy singing." Having lost her voice for a period of time from stress while she was recording "Who Saw You", Lily had the perfect blank canvas to build on.
When it comes to pop and jazz, Lily says, "I think the EP is a mix, isn't it? What would you say?" But leaning into music that is commercially viable has been going against her instincts. "Jazz, obviously, is heavily about improvising," she explains. "So, for me, I can improvise over anything; I can sing over anything. I can work out the structure and improvise over it, and do interesting things with it, rhythmically, melodically, whatever. But in terms of commercial music, getting a hook, writing a pop song: that's very, very different. A lot of the stuff I'd been writing was very complex, and people don't want to hear that. They want to hear simple melodies. In pop music, it's not about what your voice can do, it's about what other people can do to copy you. It's been hard trying to find the balance of not giving up everything I've already done."
When it came to the social strata of the Conservatoire, Lily would keep to herself – not necessarily by choice, either. "I didn't really have any friends," she says. "Obviously, for me, I'm from a council flat in Peckham, so I wasn't the kind of person who'd normally get to go to a conservatoire. I was the only woman of colour in my year. Since it was very prestigious, everyone was privately educated, except for me. People weren't really that nice," she shrugs. "People were quite judgmental of me as well, because I was a mixed-race girl. But I got what I needed from the training, and I was really happy to get that training."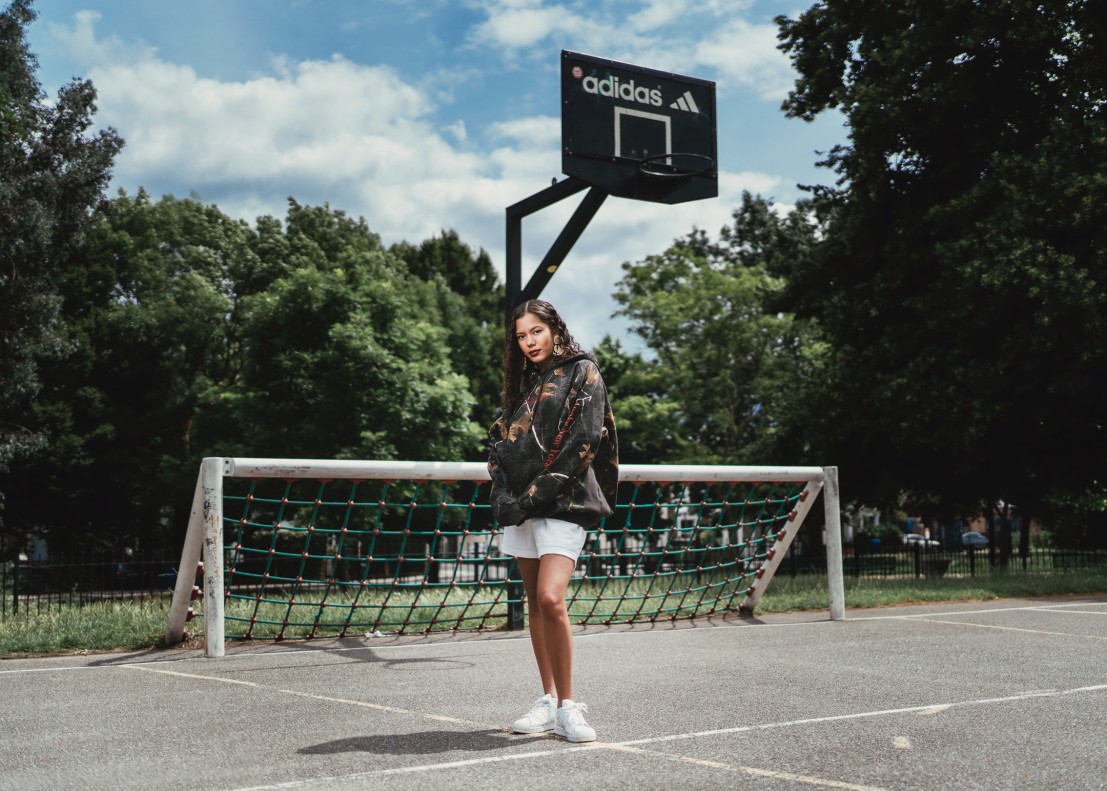 Musically, she'd learned how to write her own compositions and arrangements for instrumentals alongside creating her own big band charts. But beyond that, she'd honed her fluency in the musical language – not only writing and reading, but in the most simple, pure sense of listening. "There are all these things I wouldn't have been able to do if I didn't go there," says Lily. "I really found my voice. Anyone who listens to my music knows that no one sounds like me. When you train, and break your voice down to the most basic, human level and start building upon that, you're creating something that's very original and different, as opposed to just mimicking the new singer you hear on the radio, which most people are doing."
She is very particular about the musical worlds she delves into. While her mother toured far and wide in a folk-punk band, her Bangladeshi father would play the harmonium and tabla, introducing her to the vibrancy of Bollywood and Hindi sounds. "Everything I do, I study, I train and I fully immerse myself in that world," she asserts. "I'm not someone who would just add things lightly into the pot, right? If I were to use those sounds in my music, I'd want to go and study Carnatic singing if that was what I decided to do. I definitely want to work on something that incorporates more of that sound because, obviously, that's my ethnicity, that's my culture, and I want to spend more time actually learning about it."
The labour that has gone into Lost in London is something Lily can't underline enough. "The years and years of training and practise and performance that goes into the craft alone… I've had to transcribe whole albums of material, which has taken weeks and weeks, listening piece by piece. I could be working on a song for six months. The work that has gone into it is massive for me."
As a woman of colour, Tara Lily has lived a life of fighting, sharp-elbowed, for a place at the table. "Even the jazz scene is very male-dominated," she says. "There aren't that many women in it. There are hardly any female jazz singers that are breaking through, you know. I don't know if you've heard of anyone. Probably not. The guys are breaking through," she stresses, "but the women? No. Singers? Especially no. Not a lot are breaking through, not a lot are getting heard and not a lot are getting support, either. And besides, I just didn't feel like I fit in anyway," she shrugs. "I come from a rap background just as much as I come from a jazz background."
It was through a friend at BRIT School that Lily found herself at the same party as grime veteran Jammer. Her friend told him she was a jazz singer, which led him to play her music and invite her to the studio the following day. "That's what it's like with these things though," she says. "You have to be around. You can't be like, 'I'll see you in a month!', or even a week, because they'll have forgotten who you are. You have to act fast. Things just happen, and you have to move with that – especially with the rap scene. Everything moves fast. They won't even tell you what they'll do with a track, either. They'll just put it out. That's happened to me before: I won't have even approved things and I'll just find them online. That's the rap scene."
At 17-years-old, she found herself being taken under Jammer's wing, introducing her to the most foundational figures in the grime scene. "It was a really amazing experience," she smiles, "I really enjoyed it. I went and stayed with people, hung out with people and went to parties with them, went to studios with them…" with Skepta's studio being one of them. "The grime world is very welcoming. They really respected me and gave me a leg up. The grime world put me on – not the jazz world. Everyone who has picked me up has been through the rap scene. My first radio play was from DJ Target, and that was all through Jammer. A lot of the rap scene really got behind that song, and I wouldn't be here without them."
It should come as no surprise that Lily found her home with Motown Records UK, with the distinction of being their first British signee. She's come a long way from being the angry young girl who felt like she didn't belong. "I feel like I've always had to work harder than everyone else because I don't have my family to fall back on. I don't have anything to fall back on," she says. "I've always said that people who own their own property always have a house to depend on, and I don't. That's always been something that has pushed me to make sure that I have my own career, to make sure I can make my own money and support myself and my family." Everything she does is underpinned by a need to survive and overcome, and it's reflected in her steely, uncompromising gaze down to her posture that means she never shrinks - always asserts.
Her ambition for her music is, of course, global. She wants her music to take her places, and she leaves very little doubt that this isn't a wish, but a game plan. Just like the Nina Simone records she grew up exalting, Tara Lily doesn't want to just create music, but theatre, aiming to convey a storm of feeling in a matter of minutes. "I want to be seen as a credible artist who makes interesting music that people connect to," she says simply. Weaving through her city across five songs, spanning almost five years of experience, Tara Lily was once lost, but now she is found.
The Lost In London EP is out now